Beekeeper Pollen Necklace with Baguette Cut Green Tourmaline
Our 18ct gold Beekeeper Pollen Necklace sees a teeny weeny bee resting upon a floral cluster, accented with a Baguette cut Green Tourmaline. The pendant hangs from our fine, sparkling chain measuring 16" (40cm) which can be extended to 18" (45cm)
Read More
Product Description
Our 18ct gold Beekeeper Pollen Necklace sees a teeny weeny Bee resting upon a floral cluster, accented with a Fairtrade, Baguette cut Green Tourmaline.
Originally created in celebration of the 10th anniversary of Alex's iconic Bumblebee Necklace, our Beekeeper collection is signature of the Alex Monroe design style, with flowers and leaves entwining to reveal miniature Bees. Handcrafted from 18ct gold and accented with an ethically sourced Green Tourmaline.
Chain Length
40.5 cm - 45.5 cm (16" - 18")
Just like you, our beautiful jewellery does need to be looked after.
We have compiled a list of hints and tips for you on how to care for your Alex Monroe jewellery, so it will look as lovely as the day you received it. Many customers continue to enjoy wearing their Alex Monroe jewellery after owning it for 25 years!
We also provide a full repair and re-conditioning service for all Alex Monroe jewellery. If your jewellery is damaged or just needs a little TLC, then please get in touch to receive a quote.
More information on how to care for your jewellery or how to get in touch regarding a repair or re-conditioning, can be found on our Jewellery Care page.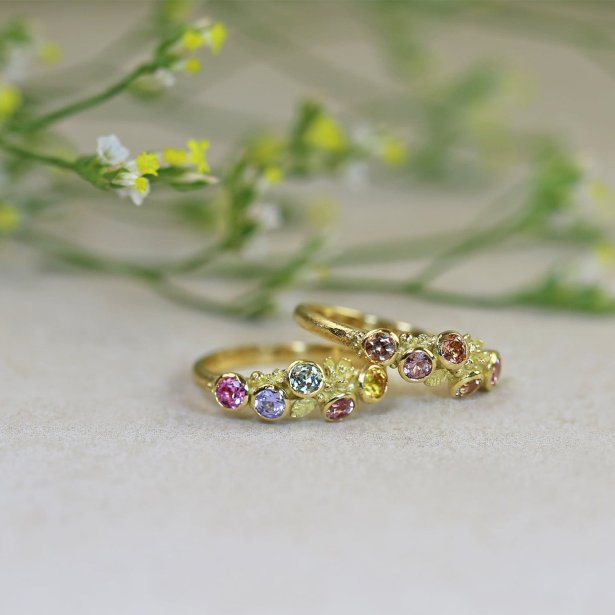 Unique Pieces
One of a Kind
Completely unique designs in Alex's signature natural style, intricately handmade by our Bespoke team in 18ct solid gold, set with responsibly sourced precious gemstones. Every One of a Kind treasure comes with a special certificate of authenticity.
Shop One of a Kind Jewellery
Complimentary Re-Size
To offer reassurance with your purchase, our 18ct Gold Fine Jewellery Rings come with one complimentary resize within the first 6 months of purchase. After this, we will kindly make a small charge to cover our costs, and the work involved.