A fallen autumn leaf has been hand-sculpted from sterling silver and gently worn away to reveal it's delicate internal structure, in this limited edition necklace.
Set with two ethically sourced green garnets, £50 from every sale of this special necklace will be donated to our charity partners Friends of the Earth, in support of their 'Trees' campaign.
Secure Payments
We use a secure payment gateway and never store individual payment details.
Handmade in England
Every piece of Alex Monroe Jewellery is handmade in England by our team of expert jewellers and craftspeople.
Free UK Delivery & Returns
Product Description
A fallen autumn leaf, gently worn away to reveal it's delicate internal structure, is set with two green garnets.
£50 from every sale of this Limited Edition necklace will be donated to Friends of the Earth and their 'Trees' campaign.
This incredibly important campaign is lobbying the government to commit to doubling the UK's tree cover by 2045, as a barrier against rising levels of CO2, contributing to climate change.
Our leaf green garnets have been ethically sourced from Madagascar by our incredible gemstone partners Wennick-Lefevre. Each garnet is mined with the utmost consideration for the local environment and its people, with a tree planted for every stone taken from the ground.
Designed and handmade in England by Alex Monroe and our team of jewellers and craftspeople.
Metal
Sterling Silver with 22ct Gold Plate
Chain Length
40.5 cm - 45.5 cm (16" - 18")
Just like you, our beautiful jewellery does need to be looked after.
We have compiled a list of hints and tips for you on how to care for your Alex Monroe jewellery, so it will look as lovely as the day you received it. Many customers continue to enjoy wearing their Alex Monroe jewellery after owning it for 25 years!
We also provide a full repair and re-conditioning service for all Alex Monroe jewellery. If your jewellery is damaged or just needs a little TLC, then please get in touch to receive a quote.
More information on how to care for your jewellery or how to get in touch regarding a repair or re-conditioning, can be found on our Jewellery Care page.
Friends of the Earth Charity Partnership
Since 2018 we have been a charity partner of leading environmental organisation, Friends of the Earth, supporting a variety of their campaigns through our nature-inspired, sustainable and ethical jewellery. From our Oceans collection which donated to FOE's campaign to tackle plastic pollution in our waters in 2019, to our limited edition Fallen Leaf necklace in support of their 2020 'Trees' campaign. Click through the button below to find out more, and how you can get involved!
Discover Here
More Trees Please
Trees are one of the most important natural allies in the fight against the climate breakdown which is why Friends of the Earth is campaigning to restore UK forests. Trees play an incredible role in combating climate chaos by removing planet-wrecking emissions from the air around us. Despite their importance, just 13% of the UK's total land area has tree cover (compared to an EU average of 35%). Friends of the Earth believe one of the best solutions to protect our environment and achieve net zero emissions (removing as many emissions as we produce) is to double UK forest cover...
Discover Friends of the Earth's 'Trees' Campaign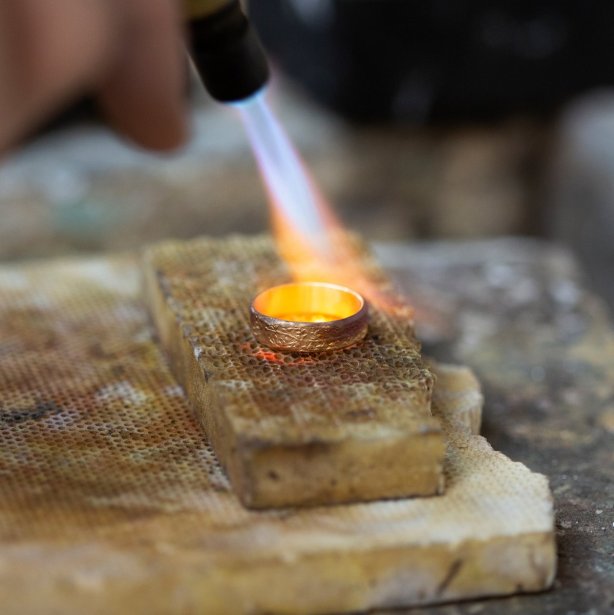 Handmade In England
Alex and his design team create all original designs by hand in sterling silver. An unusual approach to jewellery making which allows them to achieve our signature detail. When our jewellery goes into production, it is hand-finished by our team of skilled craftspeople in our London workshops, and Birmingham's Jewellery Quarter. We're extremely proud that each and every Alex Monroe treasure is and will forever be handmade in England.
Discover here