As a brand inspired by the natural world, throughout our 30 year history Alex and our growing team have always had the utmost concern for the environment and it's people. That's why we have always designed and handmade in England, creating high quality jewellery intended to last a lifetime. We are continually striving to be as sustainable as possible across every aspect of our business. Below we highlight how our jewellery is made, where we source our materials and the steps we are taking as a company to ensure we continue to keep improving the sustainability of every aspect of our business.
Alex and his design team create all original Alex Monroe components by hand in sterling silver, allowing them to achieve our signature detail. When our jewellery goes into production, it is still hand-finished by skilled craftspeople in our London workshops and Birmingham's Jewellery Quarter.
As a brand inspired by nature we are committed to making sure our work has little impact on the environment and its people. We use recycled materials as much as possible including, gold, silver, paper and plastics. Alex's creations are not designed with high-fashion seasons in mind; our pieces are special and made to last for decades to come.
Our main Alex Monroe collections are made in 925 sterling silver, which is often then plated with 22ct yellow or rose gold. Our fine jewellery is made in 18ct solid gold.
Our material suppliers in the UK work with Cooksongold, part of the Heimerle + Meulle Group. Heimerle + Meulle are a German company specialising in precious metals 60% of which are recycled and the other 40% are mined in the EU.
Heimerle + Meulle are approved by LMBA, the global authority on precious metals. As a business, we are satisfied with our supply chain ethics, but will always continue to press for transparency wherever we can.
Our AW/21 collection Fables will be the first Alex Monroe collection to be plated using licensed Fairmined gold - an accredited standard which means that we are supporting artisinal community mines who meet the UN standards for responsible social, economic and environmental practices. From September 2021, every new piece of plated jewellery we make will use licensed Fairmined gold.
Our main supplier of white diamonds is Clark's Diamonds, a UK based company whose stones all comply with the Kimberly Process.
A new addition to our diamond supply chain is The Diamond Foundry; a modern company producing man-made diamonds. We are interested in how lab-grown diamonds can lessen the human and environmental impact of the diamond industry and are currently working on our first collaborative pieces with Diamond Foundry. Stay tuned for more information.
As part of our jewellery offering, we also use naturally coloured Champagne Diamonds, which are ethically sourced from the Argyle Mine in Western Australia.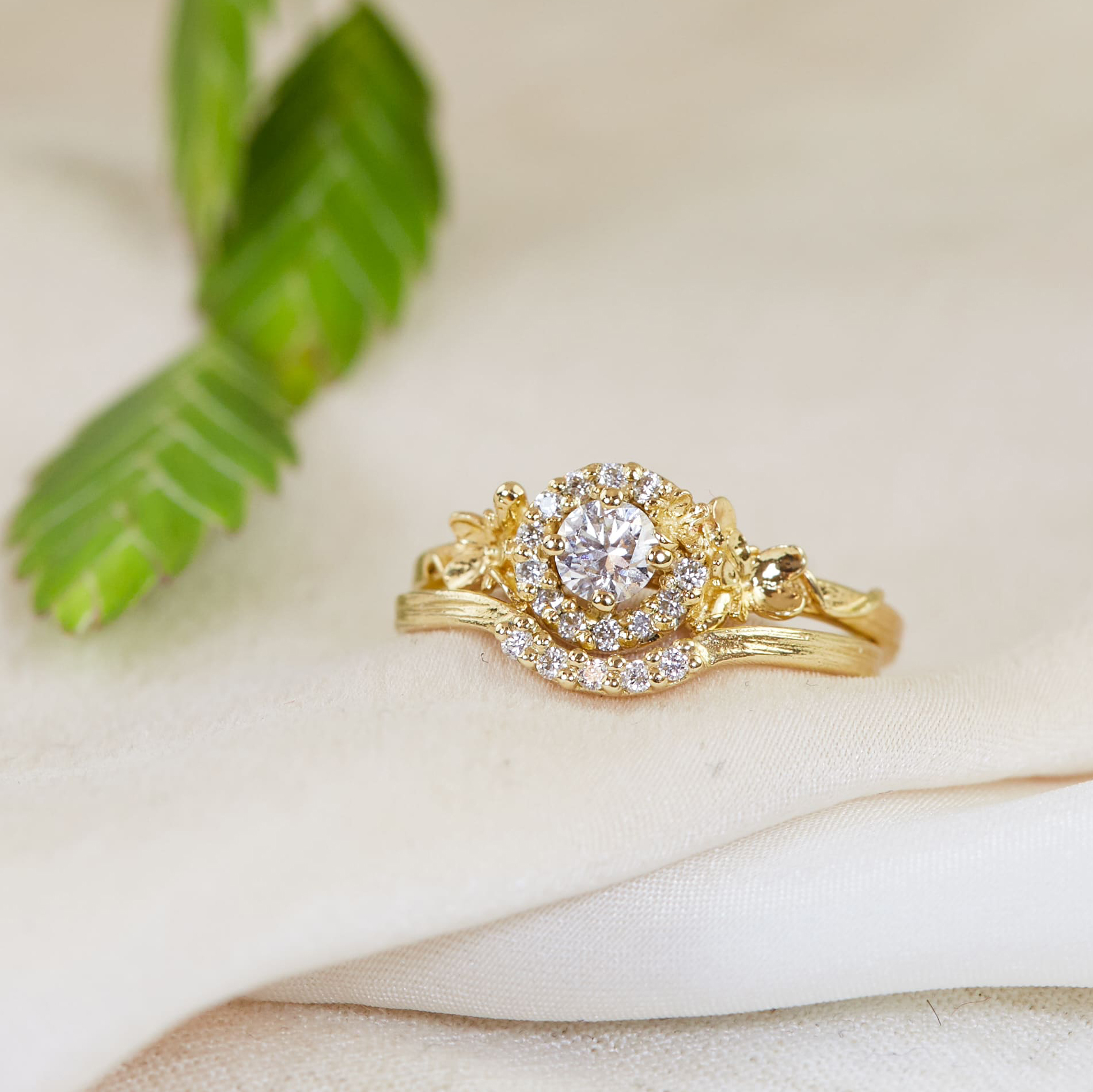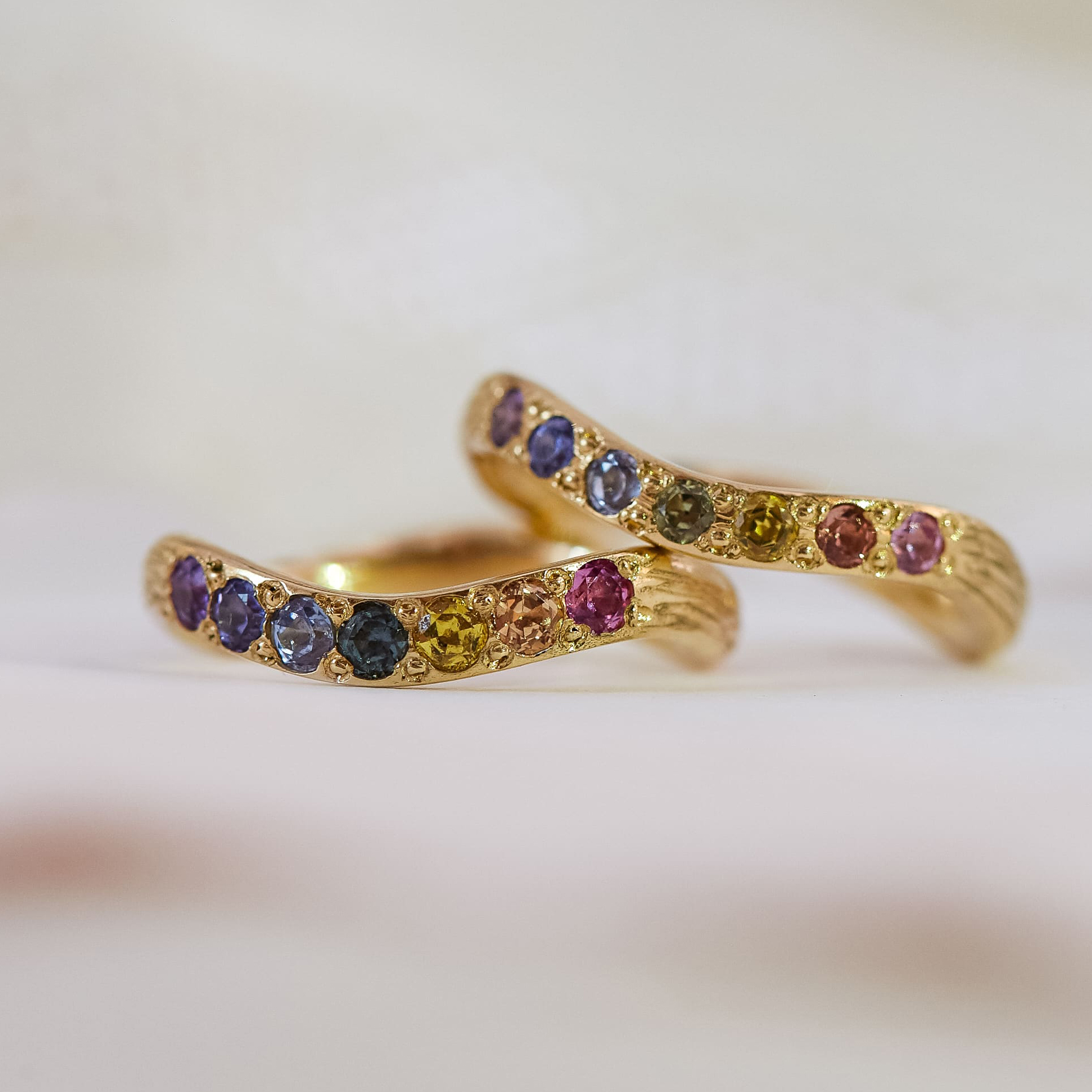 Our sapphires are sourced from Wennick-Lefévre. As suppliers of precious gemstones, their main concern as a company is to 'never trade gemstones that have in any way led to human misery.' The stones are ethically mined in Madagascar, Tanzania, Mozambique and Sri Lanka.
People are at the heart of what we do. From our customers to our jewellers, we want to ensure a positive impact and experience from all who connect with us.
As a small business, having a dedicated sustainability expert on the team simply isn't viable. So instead we hire people at all levels that care about sustainability and will help thread that passion and awareness into everything that we do.
The majority of our team are keen cyclists, so much so that Southwark council installed extra cycle parking to accommodate us. Those of us who don't cycle use London's public transport.
Our packaging partners are Wrapology, who are helping us in our aim to make our packaging as eco-friendly as possible.
Our main collections (or silver jewellery) come with brand green boxes, while our 18ct collections are differentiated with lavender coloured packaging and gold foiling.
The boxes have a card core, with all paper used being FSC certified and the interior covering is made from organic bamboo fabric. Unfortunately some elements are still unrecyclable but we are always working to improve this. Our next aim is to make our boxes fully compostable.
In the meantime, we hope that like our jewellery, you will keep our gift-boxes for years to come!
"As a company, Alex Monroe has always tried to be as responsible as possible. We love what we do, but jewellery making has a notoriously complicated history when it comes to ethical practice and sustainability - particularly in regard to the mining of metals and gemstones. It can be hard to trace everything back to source, and the task can often seem daunting - however we are committed to continually reflecting on our practises and taking steps to do what we can to make positive change." - Alex Monroe, Founder and Designer.