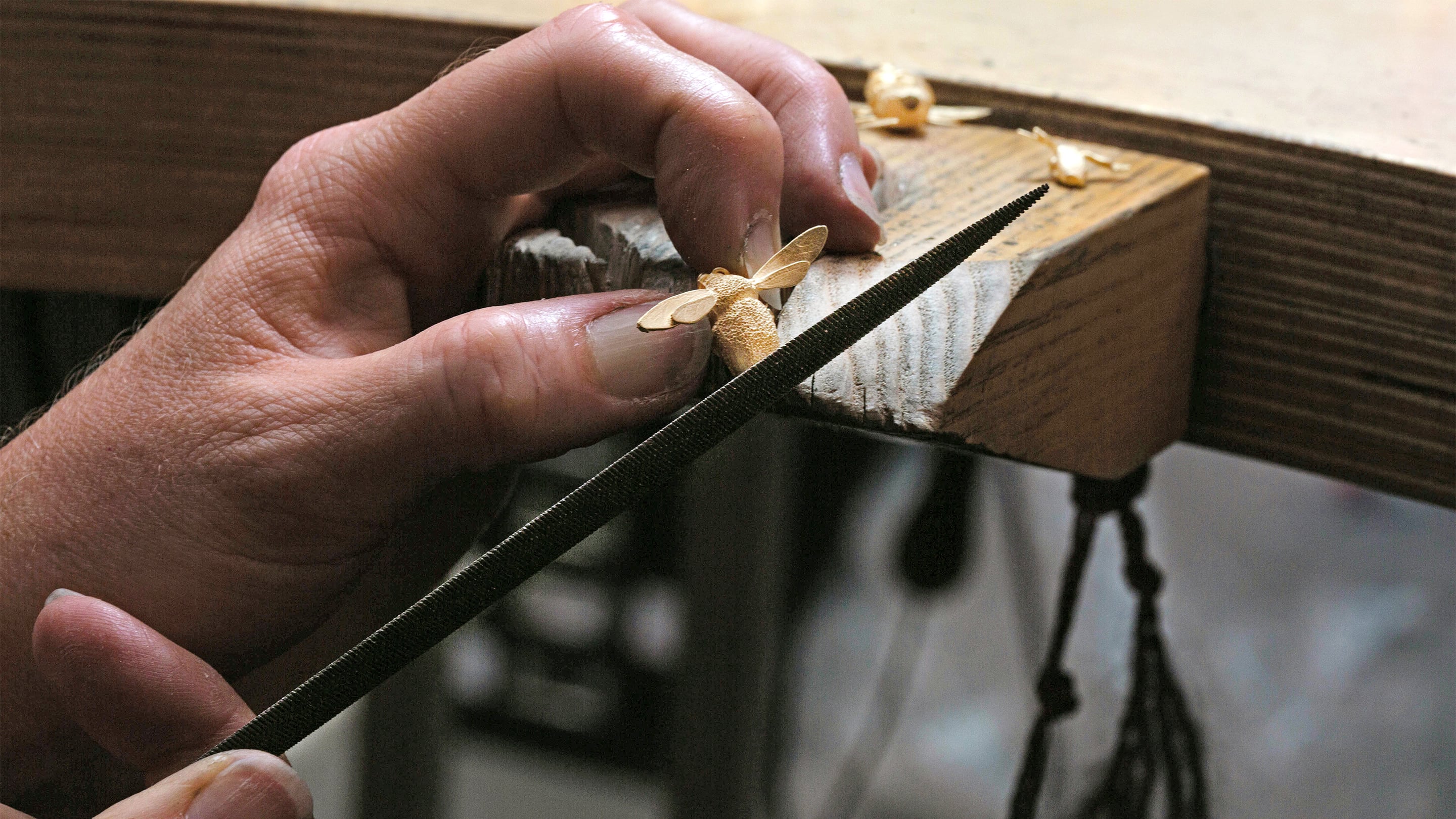 Repairs & Reconditioning

How it Works
Like most things that are much loved and often worn, there comes a time when it needs a little TLC. Our jewellery is no exception and we pride ourselves on being able to offer a full repair and re-conditioning service for all Alex Monroe jewellery at our London workshop, by a highly skilled team of craftswomen.
Some of our most common repair services include replating of our gold plated items, replacement of broken chains and replacing a lost single earring.

For any Alex Monroe 18ct Goldcrest or Bespoke piece, we suggest that your jewellery receives periodic professional maintenance. We can clean, polish and check any jewellery for damage such as accidentally knocked gemstones and loose settings.
If you have any repair related questions please contact us here or you can call us on 02073786061. Please note we are unable to confirm any possible charges over the telephone, as we require you send the item into us for assessment first.
Our skilled craftspeople are committed to beautifully recondition and repair your cherished jewellery. At present this may take up to 12 weeks (although we always try to get your pieces back to you much sooner). Thank you for your patience.
By choosing to repair your Alex Monroe jewellery you will be cutting carbon emissions by 80% in comparison to purchasing a brand new replacement.
Thank you for your support towards our goals of improved responsibility and minimising our carbon footprint.
Repair Return Instructions
To return an item of Alex Monroe Jewellery, simply follow these instructions below.
Download and print our Repair Form, or you will have been sent one if you've been in email contact with our jewellery repair department.
Please package your jewellery safely either in its original box or a sturdy packaging and return to the address below.
Repair Address
Alex Monroe
FAO REPAIRS
42 Tower Bridge Road
London
SE1 4TR
UK
For single earring replacements, please ensure you return the existing earring to us for a complimentary reconditioning.
If you require a replacement chain, please ensure you enclose the pendant and chain (if applicable) in your package, so that we can attach it to your new chain.
Make sure to include your completed repairs form. Failing to include the completed form will result in a delay in processing your repair.
Return the item to us via a secure, trackable service. If you are in the UK, we recommend Royal Mail Special Delivery service that requires a signature.
Alex Monroe Ltd. does not accept any responsibility for return postage costs, nor for any items lost, stolen or damaged in transit. These responsiblities are those of the customer.
Overseas Returns
When returning an item from overseas, please still make sure to follow the above steps.
Alex Monroe Ltd. does not accept any responsibility for return postage costs, nor for any items lost, stolen or damaged in transit. These responsiblities are those of the customer. Therefore we strongly recommend using a secure and tracked service to return the goods to Alex Monroe.
Please take care if a customs declaration form is required, to correctly mark the goods as a 'Returned Item'. This will ensure that no additional customs fees are incurred. In the instance that a item is incorrectly marked and a customs fee is incurred, this may be passed onto the customer. This may also delay the returns process.
If you are at all uncertain about how to correctly fill in the customs form, then please speak with the relevant customs or post department before returning the item. Alternatively you can contact the customer service team at Alex Monroe for further assistance on +442073786061.
Once your parcel is received, we will assess your jewellery and, if applicable, email you with a repair quote. Chargeable repairs will only be processed once payment has been received.
Warranty
At Alex Monroe, we are here for you and your jewellery for a lifetime.
We do not offer formal warranties, as a strong part of our brand ethos is the importance of repairing rather than replacing.
This is to both acknowledge the sentimental value that may be attached to your Alex Monroe jewellery - and to lessen our impact on the environment.
As we make everything ourselves, we will always aim to repair pieces in our workshop wherever possible, and we are always on hand to help with any queries or issues you may have - no matter how long you may have owned your piece.