This is a
Token
A Podcast with Alex Monroe
A Podcast with

"I've spent half a lifetime designing and making jewellery, but what really interests me is what it means to other people! This is a podcast where we ask our guest about the piece of jewellery they cherish most of all!"
Alex Monroe
Special Father's Day Episode
Chris and Freya Bramble Carter
As an extra special Father's Day episode, Alex (and his daughter Connie) are delighted to introduce the super talented and charming craftspeople and ceramic experts Chris and Freya Bramble-Carter onto 'This Is A Token.'
Chris has been a feature in the crafts world for a long time, and has taken his love of ceramics and teaching the art form to so many different communities, including teaching inmates at some of the UK's bigger prisons. Although Alex and Chris have never met, their paths often intertwine as they talk through their careers in the arts world.
New episodes every Tuesday.
Season 4
Coming Soon
We are delighted to announce that the brand new season of Alex's podcast 'This is a Token' is here!
We have another wonderful lineup of guests for Season Four, so join Alex to explore the jewellery boxes of authors, actors, creatives and entrepreneurs - and the pieces they just can't do without! We're kicking off the season with Tasha Ghouri and can't wait for you to listen along, and share your stories!
Season 4 will be released on Tuesday 28th March.
Coming Soon
Tasha Ghouri
I am so In my element whilst out walking in the fresh air listening to this! I have always loved Alex and his jewellery, i work in jewellery and collect it myself too, add to that his calming slightly eccentric nature, and such an array of interesting guests from all walks of life, and it's just such an interesting podcast.
★★★★★
Perfect escape!
Alex is such a lovely host of this podcast that he encourages the nicest conversations with his wonderful guests. Jewellery often has an interesting tale attached to it and this podcast is a fascinating insight into the stories that affect people and things they treasure. I could listen to this all day, pour the tea...
★★★★★
Delightful
This podcast is a genuine jewel. Beautiful, authentic chats between Alex, often his (inspirational) daughter, and his guests which span jewellery, family history, interesting trivia and culture. As someone who wears jewellery daily and because each piece resonates with a memory, this really speaks to me. Brilliant stuff!
★★★★★
A joy
Your Tokens
I just wanted to write to say how much I am enjoying listen to your podcast - I am new to listening to podcast's and yours is the first series I have listened to and I am hooked! Just finished listen to the Olivia Colman episode and loved it! So natural and love that she brought her dogs with her - my dogs loved it too, their ears picked up when they heard the dogs barking in the background!
Through the guests you have had on your podcast, you have touched on some many subjects, in particular, mental health and empowering women. As a Mum with 2 daughters, I am have always strived to show my girls that they are capable of anything and to be the best they can be - so highlighting this subject is brilliant.
In term's of my personal jewellery, I have been able to design my own Engagement ring and Eternity ring. I was very lucky to be given a ring by a good friend that had 7 small brilliant cut diamonds, but I didn't like the setting, so re-designing into a bar set band - a very good use of the stones!. With the engagement ring, although all new stones and mount, I bought the Ceylon sapphire and diamond in the ring with money I had inherited from my Nan, so the sentiment is still there.
I think the most special thing I have been able to do is for my Mum, she had inherited her mum's engagement ring, but again, the design and style was not to her taste so I was able to use the diamonds from the ring and re-design into a pendant that she loves and wears all the time. I was also able to do this again with pieces of jewellery she had been given from her mother-in-law, creating more modern, wearable items, rather than leaving these treasures stuck in a jewellery box!
I want to tell you about this little cameo brooch / pendant. It was bought in 1994 from the Argos store in Bradwell's Court in Cambridge as a present from my parents for my 21st birthday. I remember pestering my mum to buy it for me and eventually she relented, but moaned a lot about the cost. And I had too much jewellery and she disapproved of my obsession with it...
About 11 years ago I was wearing a very large grey woolly cardigan and popped out to the next door village whilst wearing this brooch on my cardy. When I got home I realised my brooch was gone, lost.
I always missed the little brooch and it's connection to my parents and my 21st birthday. On 14 January 2020 I was having my usual look through our local auction's 'thumbnail' pictures of what was coming up at their next sale when I spotted my brooch! Much dirtier than when I had it but definitely mine or an absolute replica of it (it was from Argos after all). The next day I was able to pop in and see the auctioneer, and, being quite a regular customer there, he got it out of the safe for me to have a look at. It was most definitely the same as the one I had owned. I told him my story of the lost brooch and I left an enormous bid on it, much larger than their estimate as I was not going to lose it again. I had to wait until the 1st February for the auction but was delighted to get it for just over £200 (what would my mum have said to that price?) I got it home and carefully cleaned it with some cotton wool and warm soapy water and then gave the gold rim a polish with a cleaning cloth. I bought a safety chain for it and found a nice chain to wear it on too, but I am slightly nervous to wear it having lost and found it again.
I lost my mum to Alzheimer's in August 2019 so I couldn't tell her my story but I believe she had a hand in getting the brooch back to me, after all why would it turn up at my local auction just a few months after she died when it had been missing for over a decade? It is by no means the most valuable piece of jewellery in my (to my mother's dismay) large collection of jewellery, but it is definitely a treasure.
I hope you like my story, I absolutely love your podcasts and your jewellery.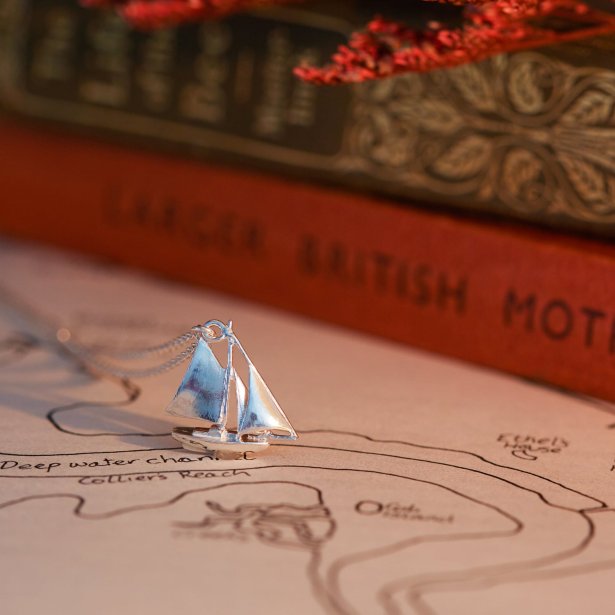 Share Your Story
Your Treasured Tokens
Alex would love to hear about your favourite piece of jewellery and the stories connected to it. Send us an email if you have a moving, fascinating or surprising story behind your most special piece.
Email us your story