A Guide to Precious Metals
At Alex Monroe all of our our Fine Jewellery is handcrafted using solid precious metals. These being 18ct Yellow, Rose and White gold and Platinum. Read below for some more infomation on each type!
18ct Yellow Gold
18ct gold is our most popular metal for engagement rings and wedding bands. With it's extraordinary heritage and unique qualities it's easy to see why. In it's natural form it is found with a rich yellow colour, which happily resists rust, tarnishing and corrosion. It is strong and simultaneously the most flexible of all the precious metals. It's this duality that allows us to create our highly detailed and intricate designs.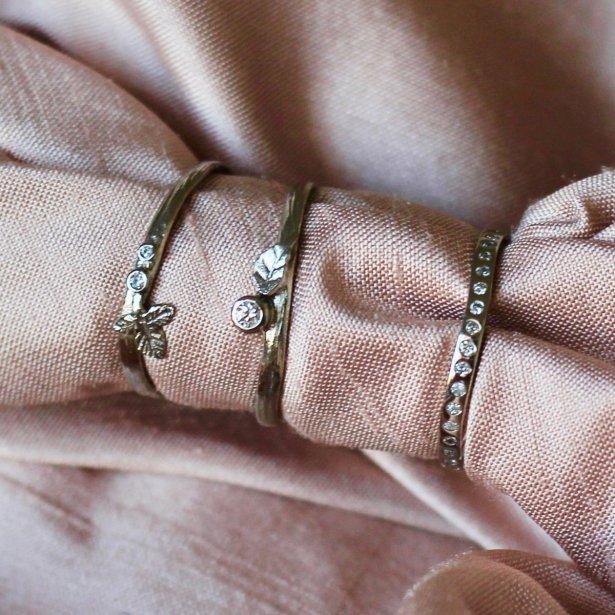 18ct White Gold
18ct gold comes in a variety of colours. Yellow, rose and white being the most commonly used. No matter what colour you choose, the percentage of gold used is always the same, it's just the type of alloys that vary to give each unique colour. White coloured alloys are mixed with pure gold to create the soft pale grey colour you see in 18ct white gold. Natural white gold still retains its signature warmth, which stems from its yellow origins. At Alex Monroe we especially love the rich warmth of natural white gold and do not use rhodium plating to enhance the whiteness. If a piece of white gold jewellery is rhodium plated then the process will require constant up keep and re-plating. As a rule, we prefer to keep things natural!
18ct Rose Gold
The striking pink hue of rose gold is created using a copper alloy. Growing ever more popular, this special colour looks lovely with both ice white diamonds and coloured gemstones. It can also be really fun to mix the colours of gold you use. Why not consider a yellow gold band with white gold flowers? Or perhaps a rose gold engagement ring paired with a white gold wedding band? There are so many playful options to explore!
Platinum
Platinum is another popular metal for engagement rings and wedding bands. It has a naturally bright white colour that is traditionally paired with sparkly diamonds. Platinum is a particularly strong metal (even more so than gold) and is used to create the finest settings and most delicate rings. The density of platinum provides the most secure setting for precious gemstones. Platinum is an incredibly pure metal. It is 95% pure platinum with 5% iridium, palladium and ruthenium. This purity makes it hypoallergenic and ideal for anyone with sensitive skin.