Jewellery School
Welcome to the Workshop
Welcome to Alex Monroe Jewellery School. Our series of workshops where you take the designing and making of a piece of Alex Monroe Jewellery quite literally into your own hands! Guided by our team of expert jewellers including Alex himself, you will learn the skills to design and handcraft your very own piece of jewellery in Alex's signature style. Located in our award winning Bermondsey workshop you will be treated to a day full of hands on fun, with an Alex Monroe treasure to take home at the end!
What to Expect
From designing your very own Floral Letter, to creating our signature loop necklace decorated with leaves, flowers and teeny tiny bee. A day out at Alex Monroe Jewellery School is an experience you will treasure, with your memories forever captured in the jewellery you create! You will start the day with tea, coffee and pastries with Alex, our expert jewellers and your fellow Jewellery School cohort. This will be followed by a hands-on morning learning the traditional jewellers skills of shaping, soldering and texturing needed to create your piece. A delicious lunch will precede an afternoon of designing and handcrafting your very own piece of Alex Monroe Jewellery, with a glass of fizz to toast your efforts at the end!
Jewellery School 2022 Classes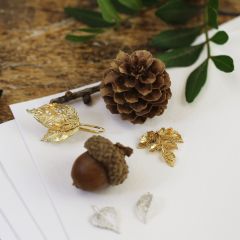 Create your own Autumnal Loop Necklace | Jewellery School
Alex Monroe Workshop, Bermondsey, SE1 London
Saturday, 29th October 2022
11am - 4pm
I love the process of making jewellery. I always have. I love the tools, the workshop, the highs and lows... and when you really love something it's a pleasure to share it with others. Jewellery School is really just a way of sharing the fun! And when you teach other people you always get back so much more than you give. It's a real privilege.
- Alex Monroe
About the Designer
Alex Monroe grew up in the countryside, in the wilds of Suffolk in a big old house surrounded by nature. He lived a life of adventure in rivers and forests, roaming freely in nature's playground. After training at the Sir John Cass School of Art in London, Alex created his first collection in 1987 to critical acclaim. His intention was to produce excellent quality jewellery, which was originally designed, hand made and well priced. This is jewellery made to be worn, loved and treasures and these values remain unchanged to this day.